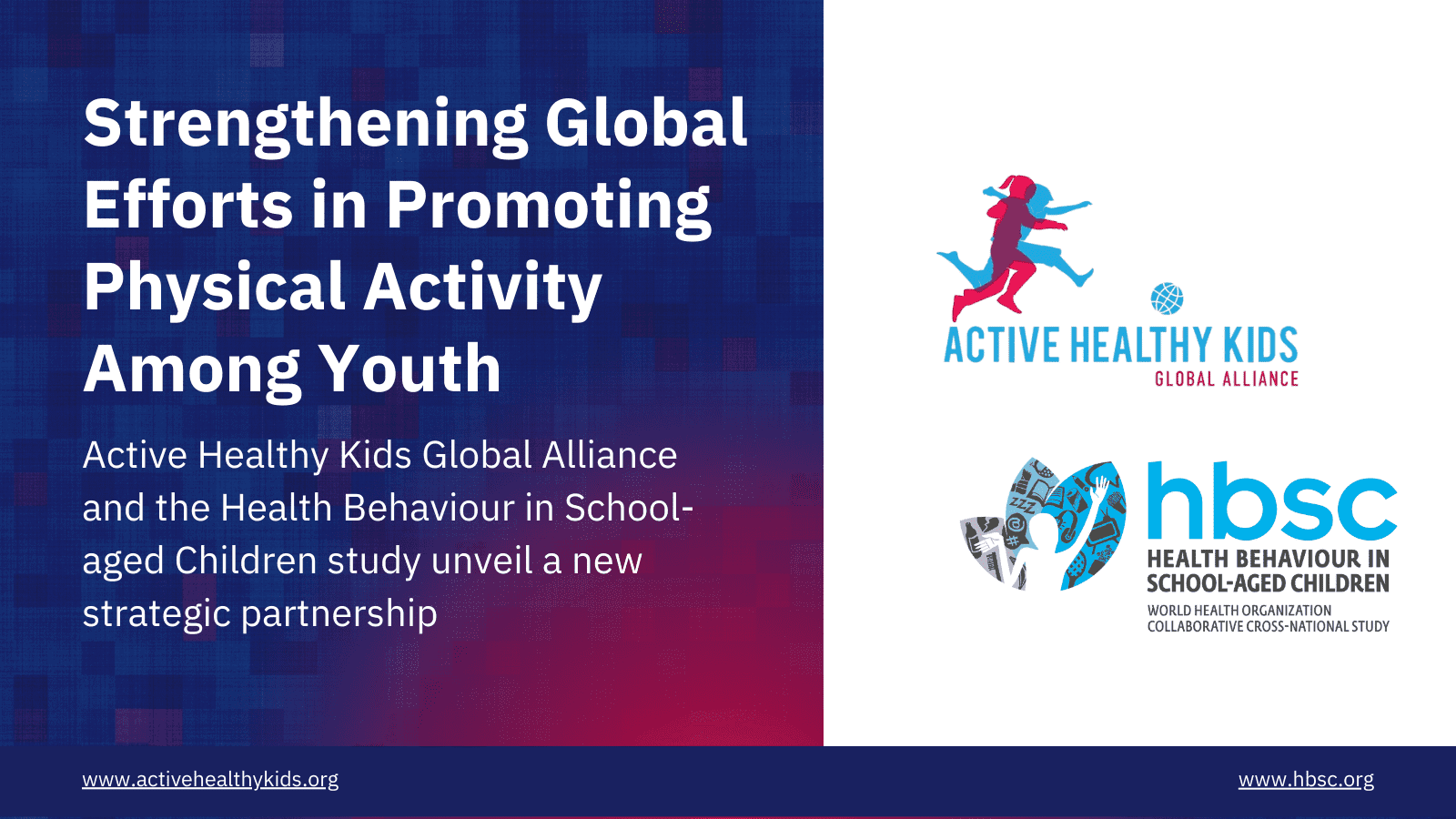 26 Sep

Strengthening Global Efforts in Promoting Physical Activity Among Youth

Active Healthy Kids Global Alliance and the Health Behaviour in School-age Children study unveil a new strategic partnership.

We are delighted to announce the establishment of a formal partnership between the Active Healthy Kids Global Alliance (AHKGA) and the Health Behaviour in School-aged Children study's (HBSC) Physical Activity Focus Group (PAFG), effective October 1st, 2023. This strategic alliance is a testament to our shared mission of advocating for and fostering physically active lifestyles among our youth.

Key benefits of the alliance
Unified advocacy: This partnership fortifies our joint voice in championing policies, programs, and practices that boost youth physical activity. Together, we form a powerful platform to influence global decision-makers.
Knowledge translation and mobilisation: By merging our wealth of data and insights and leveraging shared communications platforms, we can enhance the dissemination and adoption of key research findings.
Enhanced research capabilities: Joint HBSC-AHKGA initiatives will result in improved research and analyses, including specialised seminars and training events focused on physical activity and health in children.
Capacity building: By combining resources and expertise, both organisations will better equip researchers, educators, and health professionals globally, driving more effective interventions and campaigns.
Improved Report Cards: Collaboration between HBSC and AHKGA will refine the grading of AHKGA Report Card indicators, making them more comprehensive and actionable.
Expanded joint activities: The alliance paves the way for joint grant applications, analyses, publications, and other collaborative ventures that amplify the reach and impact of both organisations
Regular partnership review: Scheduled biennial reviews will ensure the partnership remains agile, timely, and relevant, adjusting to the changing dynamics of adolescent health and physical activity.
As we step into this promising partnership, the overarching vision is clear: a world where every young individual is empowered with the knowledge, environment, and motivation to lead an active, healthy life. The combined strength of HBSC and AHKGA is set to make this vision a tangible reality, heralding a brighter, healthier future for our youth.
Stay updated
For further inquiries, contact info@activehealthykids.org or info@hbsc.org. For future updates on our collaborative projects, please visit our respective websites.
About AHKGA
AHKGA is a registered not-for-profit organisation comprised of researchers, health professionals, and stakeholders who work together to advance physical activity in children and youth worldwide. AHKGA's vision is a world of active, healthy kids. AHKGA's mission is to power the global movement to get kids moving through thought leadership, knowledge translation and mobilisation, capacity building, and advocacy. The dominant effort of the AHKGA to date has been its Global Matrix initiative. For more information, visit www.activehealthykids.org.
About HBSC study
The HBSC study, in collaboration with the WHO Regional Office for Europe, has been a pioneering force in adolescent health research across Europe and North America for the past 40 years. The HBSC Physical Activity Focus Group (PAFG), Co-led by Dr. Zdenek Hamrik and Dr. Kwok Ng, provides crucial scientific insights into adolescent physical activity trends, drivers, and impacts. By championing evidence-based understandings of adolescent physical activity, the HBSC PAFG seeks to positively shape health policies and practices, emphasising physical activity's pivotal role in nurturing young individuals' holistic development. For more information, visit www.hbsc.org.