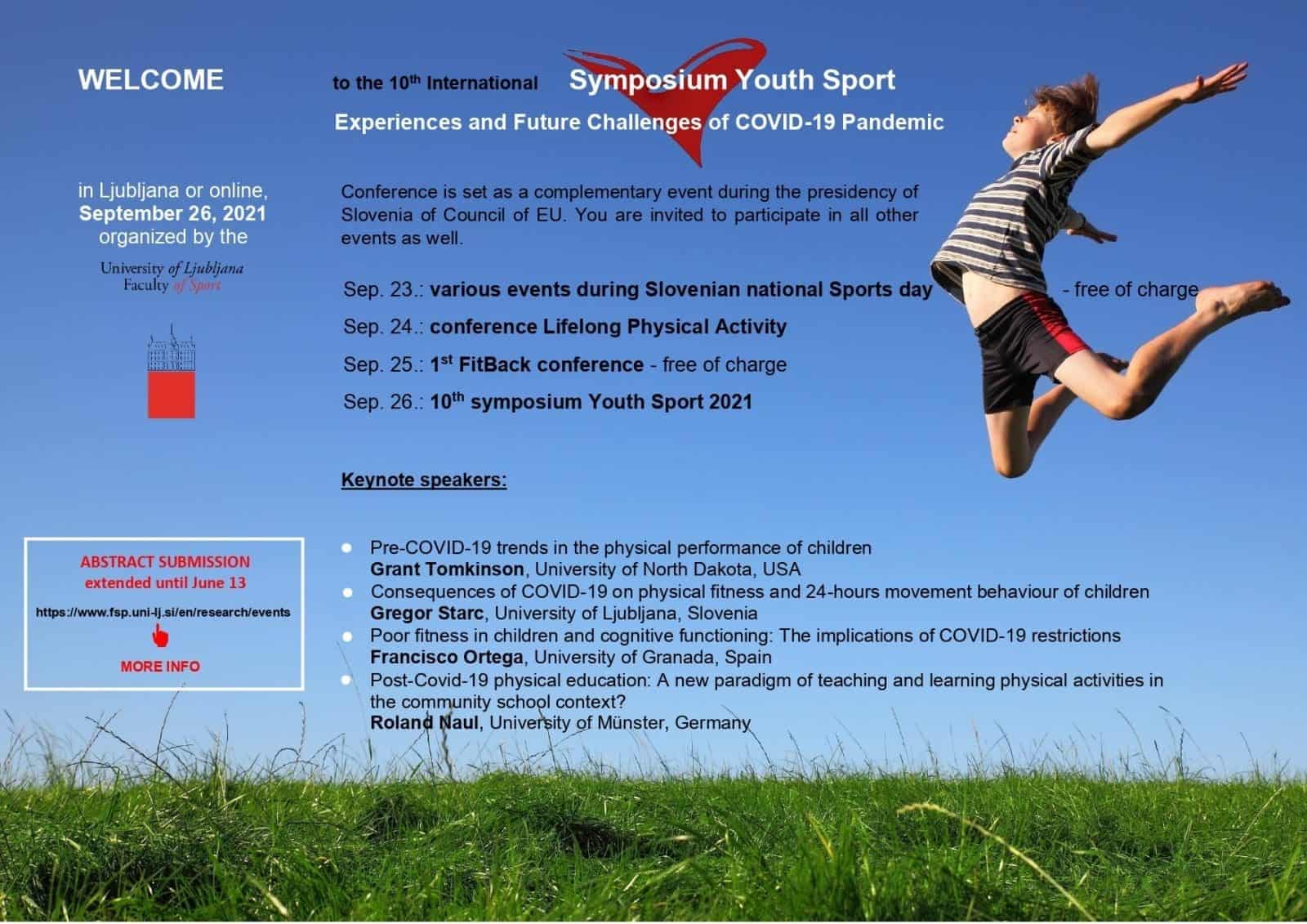 14 May

Upcoming Event: YOUTH SPORT 2021 Experiences and Future Challenges of COVID-19 Pandemic [CANCELED]

UPDATE 15/06/2021 – The symposium is CANCELED.

The University of Ljubljana, Faculty of Sport, Slovenia will be hosting the 10th International Symposium "Youth Sport 2021: Experiences and Future Challenges of COVID-19 Pandemic" in person in Ljubljana and online on September 26th, 2021.

The main goal of the Youth Sport 2021 conference is to discuss the role of youth sport for society recovery after the COVID-19 pandemic.

The conference is set as a complementary event during the presidency of Slovenia of the Council of the EU. You are invited to participate in other events as well.

September 23rd – Various events during Slovenian National Sports day – free of charge
September 24th – Conference Lifelong Physical Activity
September 25th – 1 st FitBack Conference – free of charge
September 26th – 10th Symposium Youth Sport 2021

Keynote speakers:
Pre-COVID-19 trends in the physical performance of children
Grant Tomkinson, University of North Dakota, USA

Consequences of COVID-19 on physical fitness and 24-hours movement behaviour of children
Gregor Starc, University of Ljubljana, Slovenia

Poor fitness in children and cognitive functioning: The implications of COVID-19 restrictions
Francisco Ortega, University of Granada, Spain

Post-Covid-19 physical education: A new paradigm of teaching and learning physical activities in the community school context?
Roland Naul, University of Münster, Germany
You are welcome to participate in-person or online!
For more information, please visit the following links: