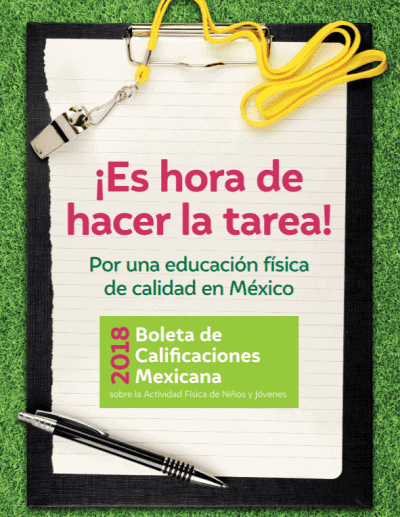 07 Apr

Mexico Publishes Paper on Their 2018 Report Card

The Mexican Report Card Team are authors on a paper, "Mexico's 2018 Report Card on Physical Activity for Children and Youth: Full report," that was recently published in The Pan American Journal of Public Health. Citation details and a summary of the paper are below.

Argumedo G, Taylor JRL, Gaytán-González A, González-Casanova I, Villalobos MFG, Jáuregui, A, et al. Mexico's 2018 Report Card on Physical Activity for Children and Youth: Full report. Rev Panam Salud Publica. 2020;44:e26. https://doi.org/10.26633/RPSP.2020.26
Abstract

OBJECTIVES. Mexico's 2018 Report Card evaluates the opportunities available for Mexican children and youth to reach healthy levels of physical activity, sleep, and sedentary behavior.
METHODS. The Report Card is a surveillance system that gathers data from national surveys, censuses, government documents, websites, grey literature, and published studies to evaluate 16 indicators in four categories: Daily Behaviors; Physical Fitness; Settings and Sources of Influence; and Strategies and Investments. Data were compared to established benchmarks. Each indicator was assigned a grade from 1 – 10 (< 6 is a failing grade) or "incomplete" if data was insufficient/unavailable.
RESULTS. Daily Behavior grades were: Overall Physical Activity, 4; Organized Sport Participation, 5; Active Play, 3; Active Transportation, 5; Sleep, 7; and Sedentary Behavior, 3. Physical Fitness, received a 7. Settings and Sources of Influence grades were: Family and Peers, incomplete; School, 3; and Community and Environment, 4. Strategies and Investments were: Government Strategies, 6; and Non-Government Organizations, 2.
CONCLUSION. Low grades in 11 of the 16 indicators indicate that schools, families, communities, and government need to work together to improve physical activity opportunities for children and youth in Mexico.
Click here to read the full paper for free.