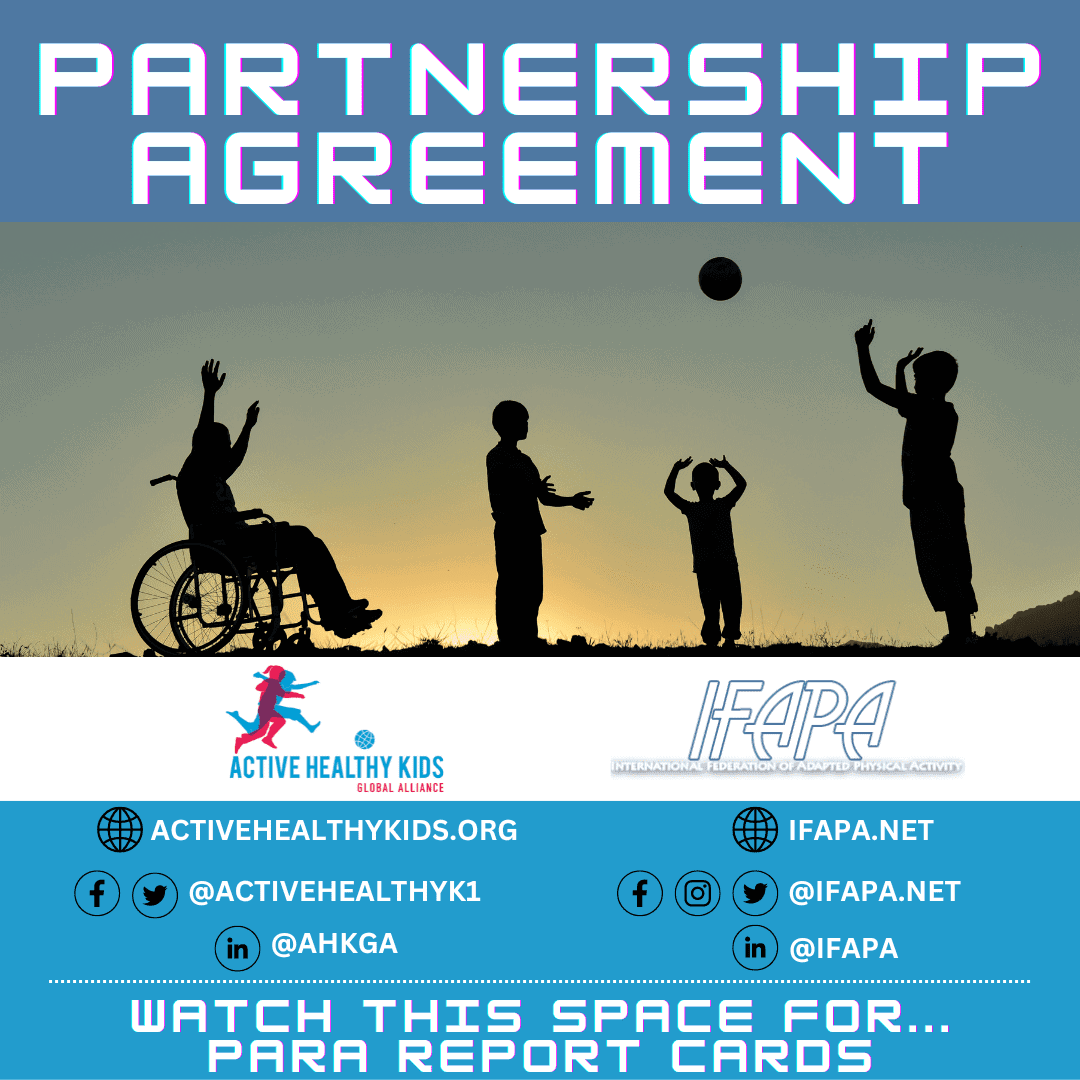 05 Oct

AHKGA and IFAPA sign partnership agreement

A new partnership has commenced between the Active Healthy Kids Global Alliance (AHKGA) and the International Federation of Adapted Physical Activity (IFAPA). The Memorandum of Understanding  (MOU) between both organisations came into effect on the 1st September 2022 and will last for five years and be reviewed every two years. 

The objectives of the partnership outlined in the MOU are to support the physically active lifestyles in children and adolescents with disabilities through leadership, knowledge translation and mobilization, capacity building, and advocacy. The flagship example of this work is the Para Report Cards, a series of national report cards that focuses on data on disability, in a similar process and in parallel to those in the Global Matrix 4.0. Both AHKGA and IFAPA will be present at the ISPAH congress 2022 where both Global Matrix 4.0 and Para Report Cards will be launched. 

Other themes in the partnership include: 
Collaborative activities to support the launch of the

Para Report Cards

Joint AHKGA-IFAPA capacity building activities to promote research on promoting PA among children and adolescents with disabilities

Dissemination activities, including awareness raising session at the

ISAPA 2023, Dunedin, New Zealand

Co-organisation of webinars related to physical activity in children and adolescents with disabilities for the members of AHKGA and IFAPA members
IFAPA is an international scientific organization of higher education scholars, practitioners and students dedicated to promoting APA. The fundamental purposes of IFAPA are i) to encourage international cooperation in the field of physical activity to the benefit of individuals of all abilities, ii) to promote, stimulate and support research in the field of adapted physical activity throughout the world, iii) to make scientific knowledge of and practical experiences in adapted physical activity available to all interested persons, organizations and institutions.