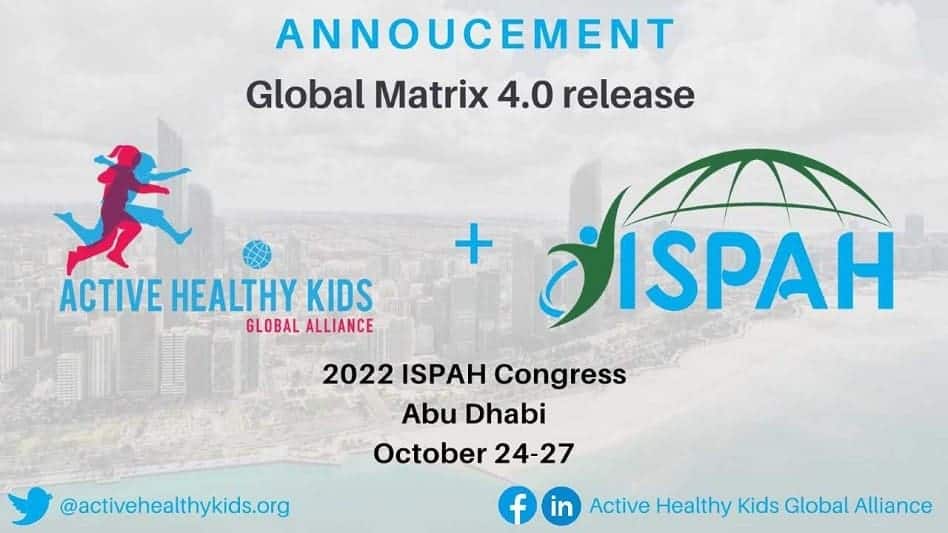 20 Oct

SAVE THE DATE: Global Matrix 4.0, 24-27 October 2021, Abu Dhabi, UAE
DATE CORRECTION: ISPAH 2022 Congress will take place on October 23-26th in Abu Dhabi, UAE.
The Active Healthy Kids Global Alliance (AHKGA) is pleased to partner with the International Society for Physical Activity and Health (ISPAH) for the release of the Global Matrix 4.0 in conjunction with the ISPAH 2022 Congress on October 24-27th in Abu Dhabi, UAE!
In 2014, the AHKGA initiated the creation of the "Global Matrix on Physical Activity for Children and Youth" to help raise awareness about the physical inactivity crisis and the need for preventive action at national and international levels. To date, there have been three editions of the Global Matrix, all released in different parts of the world: the Global Matrix 1.0 (2014, Canada); the Global Matrix 2.0 (2016, Thailand, in partnership with ISPAH) and the Global Matrix 3.0 (2018, Australia).
The fourth iteration, the Global Matrix 4.0, is currently in development and set to be the largest edition to date. The launch of the Global Matrix 4.0 will be a joint event with the ISPAH 2022 Congress and will involve the release of Report Cards from 60 countries across 6 continents as well as the results of the global comparisons.
You are invited to attend the event and join us in powering the global movement to get kids moving! Make sure you mark your calendar and have your say!
More details will be posted soon.